In the modern business landscape, having a bank account is essential for any organization. With the increasing popularity of online banking, many businesses are opting for virtual banks.
Regardless of whether you're running a small startup or a large corporation worth millions, there's bound to be an online business banking solution that suits your needs. In this article, I'll be reviewing my top picks for various scenarios to assist you in selecting the best option for your business.
From freelancers and startups to ecommerce stores and those needing extra flexibility, most people will get everything they need from one of the banking options above.
Additionally, to make the decision process even simpler, our research team has identified six excellent choices that are suitable for most businesses. These options are:
If you're a startup looking for a flexible and convenient online banking solution, then Mercury should be your top pick. Unlike many of its competitors, Mercury offers additional features such as paying employees, issuing debit and credit cards for employees, and syncing your accounts with your existing tools. This is particularly significant since several top online banking services are suitable only for solo entrepreneurs, and can't keep up as businesses expand.
Mercury, however, provides all the necessary tools and services for founders to build and grow their businesses. With the support of its partner banks, Mercury offers FDIC-insured US bank accounts for global businesses.
Think of it as a traditional banking infrastructure with a modern user interface tailored to meet the needs of contemporary companies. Mercury's integrations and open API access allow you to link your bank to other aspects of your business.
With Mercury, you can create virtual debit cards, monitor your cash flow, and effortlessly handle Shopify, Stripe, Amazon, and PayPal integrations. You can easily transfer funds, issue both physical and digital cards to your employees, and keep track of every transaction with accurate reports.
Mercury offers an impressive array of benefits that make it an attractive option for startups and other young tech operations. With zero monthly fees, no minimum balance requirements, and 100% online banking, Mercury allows you to sign up and start banking in minutes from anywhere in the world (even non-US residents are welcome). You can create checking and savings accounts, virtual and physical debit cards, and link seamlessly with Stripe, PayPal, Shopify, and other payment processors.
Mercury also integrates with Pilot, Xero, Quickbooks, and other platforms, and offers intuitive payment options such as wire, check, and ACH. Additionally, the platform's easily searchable transactions and customizable user permissions make managing your finances a breeze.
Furthermore, Mercury provides two safe and compelling options for storing your extra cash. The first is Mercury Treasury, which allows you to earn up to 4.64% on your idle cash with minimal effort. There are no opening or transaction fees associated with a Mercury Treasury account, but it is only available to users with over $250,000 in the bank.
The second option, Mercury Vault, is a more traditional savings option that provides excellent protection for your funds. You can store any amount of cash in the Mercury Vault with deposits that are FDIC-insured up to a generous $5 million, without the need to split funds or open separate accounts. All Mercury accounts have access to Vault, making it a highly attractive option for those seeking a secure and easy way to store their savings.
Get started by opening a Mercury account today for free.
Lili is a versatile online banking app that provides significant value for businesses of any size, including sole proprietors, single or multi-member LLCs, partnerships, or S Corporations.
Lili is like other online banking solutions in that it is modern, adaptable, and devoid of hidden fees. However, where it stands out is in its integrated tools for expense management and invoicing.
With Lili, there's no need to link two or three apps; everything can be done right within the platform. It's a breeze to scan receipts, categorize expenses, and put away money for taxes all year long. Lili even pre-fills your 1040 Schedule C come tax time if all your information is up to date.
👉🏼 Additional reading : 15 Proven Strategies to Drive Traffic to Your Website Store in 2023
Keeping track of your finances with Lili is incredibly straightforward. You can produce, send, and store all of your invoices within the app, without any limits on the number of invoices you can send. You can also customize your invoices with your company logo.
Lili may not have as many integrations with other software as some other business banking solutions, but it can do a lot more within the app itself. This can be a significant benefit for small business owners who don't want to rely on several apps to complete basic transactions.
If you're just starting, Lili Basic may suffice, with no fees or minimum balance requirements. You'll get a Visa business debit card with no ATM fees at over 38,000 locations nationwide. You'll also have the same account limits as Lili Pro.
For more features, you can upgrade to Lili Pro for $9 per month. This will give you access to a savings account with a 2.00% APY, overdraft protection up to $200, and a Visa premium debit card with cashback rewards.
All Lili accounts are FDIC-insured, and you can bank anytime, anywhere using Lili Web or the sleek mobile app on any of your devices.
It only takes a few minutes to sign up. Find out more and apply for a Lili account today.

Novo is the ideal choice for entrepreneurs and ecommerce enthusiasts who require a banking solution that can keep up with the fast pace of commerce. With its mobile app, you can easily make payments, send invoices, and transfer funds, and even scan checks and perform other common banking tasks with just a few swipes on your phone.
What sets Novo apart is its extensive integration capabilities, making it easy to slot into your business's existing infrastructure. Novo seamlessly integrates with Quickbooks and Xero for accounting and bookkeeping, Zapier for CRM, email, or marketing, Shopify and eBay for ecommerce, and Stripe for payment processing.
With Novo, you can enjoy a variety of features and benefits, including no monthly service fees or hidden fees, refunds at all ATMs, free incoming and outgoing ACH transfers, free domestic and foreign wires, free mailed bank checks, and no minimum balance requirement. Furthermore, you can access discounts on business tools like HubSpot, Salesforce, Zendesk, Google Cloud, and Stripe.
If you're a business owner who only needs a checking account, Novo offers a straightforward, online-only solution that can simplify your banking needs. Opening an account takes less than ten minutes, and the minimum to get started is a relatively low $50.
However, if you require more comprehensive banking services, it may be worth exploring other options on our list. Overall, Novo is an excellent choice for entrepreneurs and ecommerce enthusiasts seeking a no-frills, user-friendly banking solution.
👉🏼 Additional reading : How to Start Affiliate Marketing Business : A COMPLETE PLAYBOOK FOR 2023
Bluevine is an exceptional online banking service designed specifically for small businesses. Their business checking account is one of the best options available, which is why it made our list of top business checking accounts.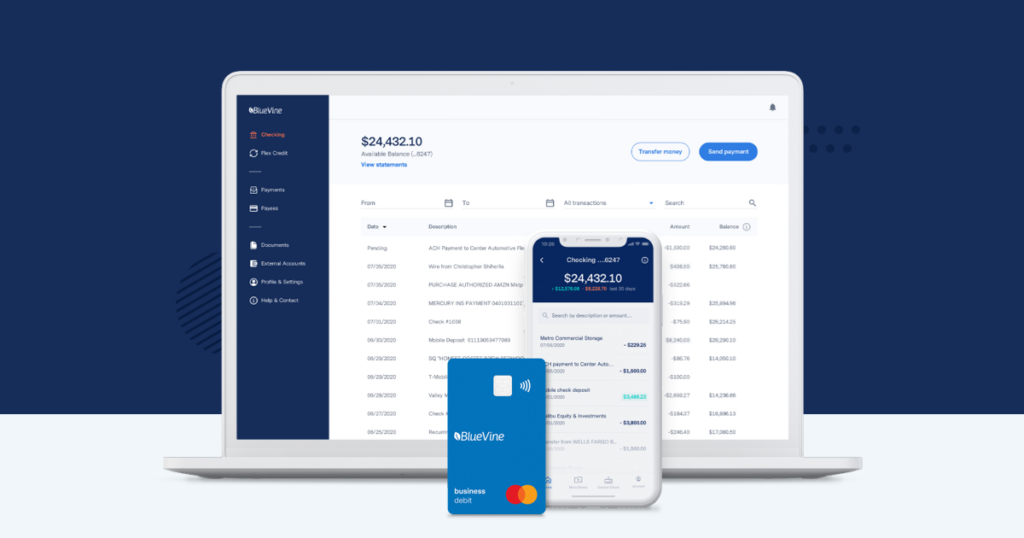 With no monthly maintenance fees, minimum deposits, account balances, or insufficient fund fees, Bluevine offers an entrepreneur-friendly solution for small business owners seeking to save money and avoid being nickel-and-dimed by their bank.
Additionally, eligible customers can earn a full 2.0% interest on their business checking balance up to and including $250,000, which is more than 50 times the national average.
If you're a business owner looking to protect your money from being diminished by fees and watch it grow as it sits in your account, Bluevine is an excellent option. It also boasts an ATM network of 38,000 locations that have no surcharge through a partnership with MoneyPass. However, if there isn't an in-network ATM nearby, you may be hit with an ATM fee.
Apart from a fantastic business checking account, Bluevine now allows customers to add up to five sub-accounts to any business checking account. These sub-accounts provide greater flexibility and enable users to manage their money more effectively.
With features such as contactless payments and no incoming wire transfer fees, earning 2.0% APY is hard to beat. Overall, I highly recommend Bluevine to any small business owner who desires a flexible banking experience. You can refer to my comprehensive Bluevine review for more information on its benefits and terms.
👉🏼 Additional reading : How to Make $500 a Day with Affiliate Marketing ? Case Study (2023 Guide)
Found is a financial technology company that offers top-notch online banking services tailored specifically to self-employed individuals. This all-in-one app allows you to manage payments, invoices, and taxes with ease.
Unlike other online banking services that offer a stripped-down version of their business banking, Found was designed from the ground up to cater to the needs of self-employed people. With Found, you can create and send invoices, take or make payments, and track everything in one place.
Found also integrates with popular payment gateways like Square, Cash App, and PayPal, making it easier for your clients to pay you. The app's expense tracking and categorization features are incredibly user-friendly and can help you save time and stress come tax time.
While Found may lack some of the more comprehensive reporting features of other banking services, it's perfect for most self-employed business owners. The app offers automatic P&L, income, and expense reports, and the Found+ subscription offers additional bookkeeping features and photo receipt capture.
Setting up a Found account is quick and easy, with no credit check, opening fee, or minimum balance required. Found also provides a Mastercard Business debit card with instant alerts on all transactions.
It's important to note that Found is not a bank, but a financial technology company that provides banking services through its partner, Piermont Bank, a Member FDIC. The Found Mastercard® debit card is issued by Piermont Bank under a license from Mastercard Inc. and is accepted everywhere Mastercard debit cards are accepted.
👉🏼 Additional reading : 18 Best Email Marketing Software for Affiliate Marketing in 2023 (Updated)
📚 Learn more :