What is content marketing? What is it for? And how to use it? Here are certainly some questions you have already asked yourself.
Content marketing has been talked about for some time now, establishing itself as a reference discipline in the sphere of the web.
According to the Content Marketing Institute, it is defined as a marketing strategy that is based on the creation and delivery of relevant, consistent, and valuable content to attract and retain a defined target. In order, of course, to achieve the benefits of the concrete business.
In short, it is a global strategic concept where a company creates content to fuel its brand image, to attract and finally, to retain its customers. Often, content marketing campaigns are not specifically centered around a product. Rather, they are used to build and develop the company's image, voice and mission.
A practice far from New
Content Marketing as we know it today first appeared in the United States in the nineteenth century. In 1895, John Deere, Owner of the famous tractor company, published the first edition of his magazine The Furrow.
This magazine is not used to advertise its tractors, but rather its mission is to help farmers improve their yield by addressing different agricultural issues such as crop choices, changes in farming patterns or economic diversification issues. Today, the magazine still exists and it is read by more than 1.5 million readers across 40 countries worldwide.
The goal of content marketing is to generate leads, gain new customers and engage a community by delivering content that is interesting, useful, informative, attractive, playful where appropriate and relevant.
Content is the cornerstone of any digital strategy, it is through relevant and targeted content that all communication starts
Targeted content that informs, advises, entertains and inspires at the same time has become an inescapable need for decision makers and marketers. Content marketing has thus come under the spotlight of digital communication as a preferred marketing method.
By ensuring that the internet user has valuable content that can meet their needs at every stage of the customer journey, companies gain new customers as well as the loyalty of those that already exist. The one who finds the answers to his questions on a single page will be more inclined to return. And as everyone knows, trust precedes the purchase.
Digital market giants like Amazon or Google have figured out how customer loyalty works. It is no coincidence that their influence is immense and their consumer confidence is high as a result, especially when it comes to buying decisions on the Internet.
Types of content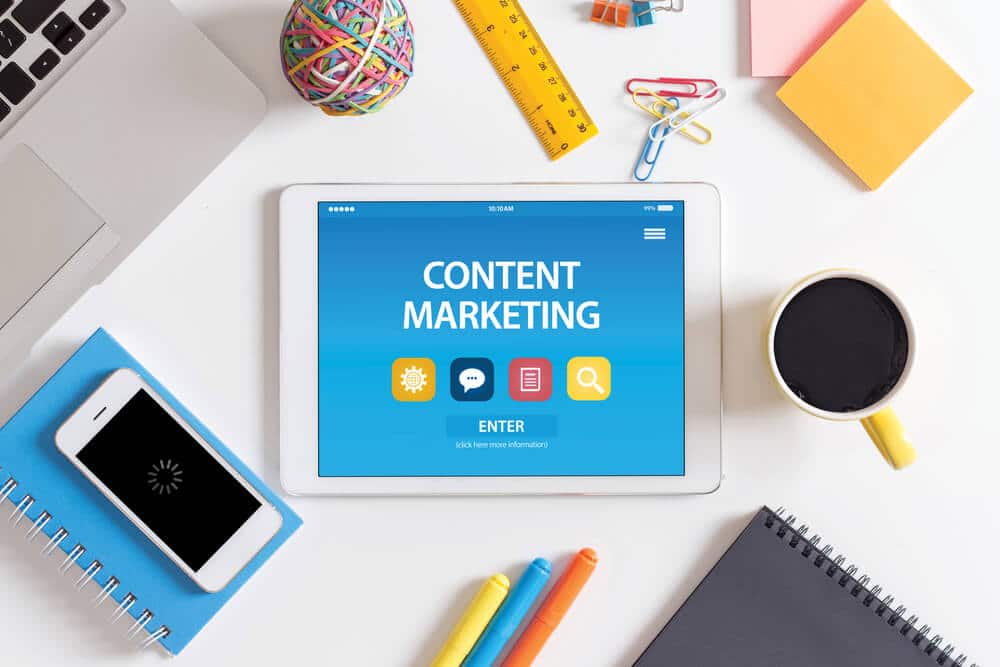 Generally speaking, content fits into 5 buckets :
Written content : Blog articles. Product descriptions. Landing pages. Press releases. Long-form guides. FAQs. Email copy. Ad copy. EBooks. White papers. Case studies.
Video content : Video blogs. Studio production. On-location video. Vox pops. Video interviews or testimonials. Animations. Web demos. Product demos. Corporate promos. Event footage. GIFs. Virtual reality and augmented reality.
Social content : User-generated content. Complementary social posts. Hashtag campaigns. Quizzes. Polls/surveys. Contests.
Graphics : Infographics. Custom illustrations. Calls-to-action. Content formatting. Wireframes and site mockups.
Audio content : Recorded interviews. Podcasts. Webinars.
Why has content marketing become essential to your digital strategy ?
You have now understood the workings of content marketing but one question arises: why adopt it?
The decisive advantage of content marketing is that it costs significantly less than traditional marketing but generates three times more leads. In addition, it is the preferred way for the majority of internet users to get information about a company because 70 % of people prefer to learn something by reading an article rather than an advertisement (source : demandmetric.com)
Internet users are no longer receptive to intrusive messages, unlike the 1980s and 1990s when advertising was intense and new on the Internet for the time. Today many internet users really shun conventional ads. Instead, they prefer to look at serious content on sites, magazines or blogs of personalities they know.
With the evolution of communication modes and habits, traditional marketing has given way to content marketing. This strategy, which places content at the center of the process of attracting and converting new customers, uses different levers: social networks, SEO or blog.
Deployed over the long term, it combines both commercial and marketing performance. Which is driving more and more marketers to adopt it :82% of marketers say that creating content is the most effective SEO tactic. (Ascend2, 2018)
How to create a content marketing strategy ?
A content marketing strategy takes time and involves all the functions of the company. You will address many areas of digital marketing and if you do not want to get lost it is important to set clear goals.
The first step for an effective strategy is of course the editorial line. Making content to make content doesn't make much sense. You need to know who you are talking to, what you are going to talk to them with and how you are going to do it.
1 – Set your goals
Set content marketing goals and align them with your business goals.
When planning content, how do you decide what is worth creating and what needs to be communicated ? Every piece of content you get involved in should serve a clear purpose for your marketing efforts.
Here are some common content marketing goals to consider :
Increase brand awareness in key or vertical markets
Redirect traffic to your website
Increase subscriptions
Direct readers to a home page or fill-in form, lead generators.
Before setting your strategy, determine your goals, so you will have easier to define what is best suited to it.
2 – Perform an analysis of your personas
A large part of successful content marketing strategies involves knowledge of one's audience. Depending on the objectives set, it will be necessary to profile a specific audience or buyers. This will help you find the ideas and create your content.
you need to clearly define the targeted audience, also called buyer persona. This step is essential, especially for marketers who are just starting out or those who do not yet have a marketing strategy. Knowing your target audience will allow you to produce more relevant content that your leads will want to read and that will encourage them to take a given action.
Even if you already have experience as a marketer, your targets may not be the same. Whether you want to target a new group or expand your current audience, or keep the same target audience, re-evaluating your personas each year through market research is essential.
If you're looking to break into (Buyer Personas), I suggest checking out ▷ How to Create Detailed Buyer Personas for Your Business
3 – Perform a content audit
After defining your goals and target audiences, you should be able to determine the types of content that can help you achieve both.
Most companies start by creating blog posts, but if you want to go further, study the content you want to produce. For example, if you have previously published blog posts at a weekly rate, you can create an e-book that groups all your posts to provide a complete guide in a different format.
Among the useful content types :
Video tutorials
Customer Success stories or case studies
Content referring to mass popular culture
Professional blog content
If your goal is to redirect visitors to your websites, focus on creating content that is easy to find and strongly related to your industry or business.
Among the useful content types :
Targeted ads on social media
Search engine-optimized blog content
Publications on popular industry blogs (« guest posting »)
Email Newsletters
If you already have a strategy, evaluate your marketing efforts and the results achieved in the past year. Then determine what you can do differently for the coming year and set new goals. It is advisable to adapt the goals of your team to those of the company in general.
If you're looking to break into (Content Marketing Audit), I suggest checking out ▷ Plan, Write and Analyze Content in One Place
4 – Create a content execution plan
This plan adds stability to your content marketing efforts, and ensures that every element of the content is tracked at every stage.
What does a content execution plan contain ?
A calendar : How much content do you need ? one video a week ? Two blog posts a day ? One webinar and one demo per month ? Hence why you must create a content calendar.
An idea : To find good content ideas, do not hesitate to do a keyword search (using tools like Moz, SemRush or Google Keyword Planner) of your site as well as those of your competitors sites.
A project brief : A brief describes the idea behind the content, its objectives, the target audience, the time frame or deadline, as well as the role of each person involved in the project. A successful brief helps avoid wasted time between project managers and content creators.
A content hierarchy : When creating content, it may be judicious, for example, to start with the copywriters. Once the writing is complete, the editor takes over. Then come the designers or cameramen. The completed content then passes into the hands of a manager. In any case, each person needs to know when they are involved in the process, and what their responsibilities are as part of a standard content project.
5 – Create a content promotion process
Your content promotion process ensures that all your creative efforts were not in vain. This process helps your team decide how to promote each of your content. It includes the promotion locations, duration, frequency and budget invested in each promotion.
Companies have at their disposal a number of opportunities for content promotion. The most popular of these is now to use social media.
When it comes to promoting content on social media, there are three solutions : use paid, acquired or owned social media.
Detained social media refers to using your own social media channels (Twitter, Facebook, LinkedIn, YouTube, etc.) to direct traffic to your content.
If you're looking to break into (Social Media), I suggest checking out ▷ Social Media Tips
Acquired social media refers to shares and mentions obtained by your content from other social media users. Similar to word of mouth, these are unaffiliated users who voluntarily share your content on their own social channels, and help you promote your content at the same time.
Paid social media takes advantage of social media ads to increase the visibility of your content. By investing money in your digital posts, you have the opportunity to target a very specific audience and increase your digital reach when you need it most : right after your content is released.
Other types of content promotion to consider :
Email Marketing: great way to promote all types of content, but requires the collection of email addresses, which can be quite laborious.
Email Marketing Tool: GetResponse offers an online platform for email marketing software, landing page creators, webinars hosting, and much more.f you want more information on Keyword Magic Tool, check out: ▷ GetResponse Review 2021: Details, Pricing & Features.
SEO optimization: you should always make sure that your content is search engine optimized (SEO) to rank well in Google searches. This will increase the visibility of your content, and this is especially interesting if you are aiming for an increase in your traffic or subscriptions.
If you want more information on SEO Keyword Magic Tool, check out: ▷ SEMrush Review: Features, Ratings & Details.
Ads (searches / display): even though many people shun ads, buying high positioning on search engines is still widely used for content promotion.
6 – Measure and refine your content marketing
You have defined processes for the ideas, creation and promotion of your content. What remains to be done ? Your content marketing strategy is valuable only if it allows you to succeed, and determine the evaluation process necessary to implement.
Get into the habit of regularly reporting on the performance of your content marketing. These reports can then be shared with your team, for transparency and to show them the performance of the content.
It is also possible to submit reports to management, to demonstrate the value of your content to the company. Finally, they give you an overview of key metrics, which is convenient for evaluating the goals of future content marketing campaigns.
Conclusion
That was lots of examples. We hope they give you a good idea of what it takes to be a good content marketer.
So what's your story? Are you using content marketing already?
If you have any other great examples we've missed, please tell us about them in the comments.
More Resources:
▷ How to Start a Blog in 2021 That Generates $4000 – A Step By Step Guide
▷ Divi Theme Review : Best And The Fastest WordPress Theme
▷ HostGator Web Hosting: Honest Review
▷ 10 Amazing Free Chrome Extensions to improve your SEO
▷ Powerful tools for small business owners
▷ SEMrush Review: Features, Ratings & Details