TikTok has about 850 million monthly active users, (The largest demographic of TikTok users is between the ages of 16 and 24). And in excess of a million videos viewed daily. Today, this platform is used by many businesses that look to promote their brand. However, there are some things you would need to do …
In this article, you'll discover 3 Ways to Use TikTok to capture the attention of your audience.
1. Create Your Own Quality TikTok Content
Content is the lifeblood of your TikTok business account. TikTok encourages users to create native content within the app but allows pre-edited videos to be uploaded too there are plenty of ways to create content on TikTok, you can one or a combination of pieces as your posts:
Blogs
Pictures
Podcasts
Videos
If users on the platform find your content relevant, useful, and interesting, they start following you. Gradually, you start getting more likes, shares, and engagement.
TikTok has a great hashtag system, but hashtags are limited by the short 140 characters allowed for each video marketing. This caption must include not only the entire video description but also needs to have all of the hashtags that you want to rank for.
2. Legally Reshare TikTok Content
Search the hashtag #Apple to see real marketing magic. More than 12.7b users have viewed the hashtag and millions of TikTok posts include it.
Nike has taken an interesting approach to TikTok. Rather than posting public video content of their own, they're cashing in on user-generated content (UGC). If you look at their TikTok profile, you'll see that their account is private and you have to request access to view the content.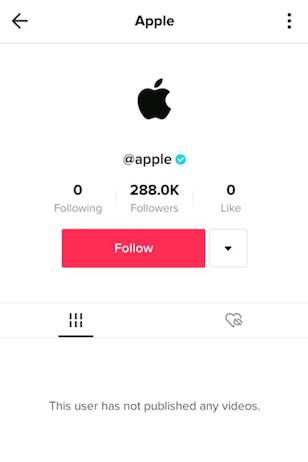 3. Advertise on TikTok
TikTok's advertising structure includes campaigns, ad groups, and ads. TikTok ads could be a worthwhile investment for you. With 70% of TikTok's users younger than 30 (45% are aged 16–24), this isn't the right platform for businesses that cater to older audiences.
Ad Group :
TikTok lets you choose specific ad placements, set campaign budgets, target specific audiences, set optimization goals, and bid for each ad group : Here's how to set up your ad group:
Choose your TikTok ad placements
Fill out the ad details
Choose your target audience
Set up a budget and schedule for your TikTok ad
Choose optimization goals and a bidding method
Biddable Ads :
TikTok's only biddable ad-option is in-feed video ads. These are the ads that show up in the video stream for TikTok users. : Here's how to set up your Biddable Ads
The audience targeting strategies available for TikTok's biddable ads are:
Age
Gender
Location
Interest
Device type
TikTok Advertising :
TikTok is still a new platform and new to ads. However, you have to go through a TikTok advertising representative if you want to run promotions on the platform. Not great when you're used to a self-serve bidding platform and managing your own advertisements.
More Resources:
▷ How Do Search Engines work? Ranking, Crawling, Indexing …
▷ 20+ Digital Marketing Tools Top Marketers Recommend
▷ 12 Proven Steps to Boost Your Organic CTR in Google
▷ 13 Ways to Improve Your Organic Click-Through Rate
▷ Click-Through Rates in the SERPs – What Are the Real Numbers?